---
Surprise your mate with the Venice skyline will be unforgettable for both you.
Hire a Photographer in Venice for a Surprise Wedding Proposal means to capture that beautiful moment and you can live it again any time you take a look to the Pictures.
---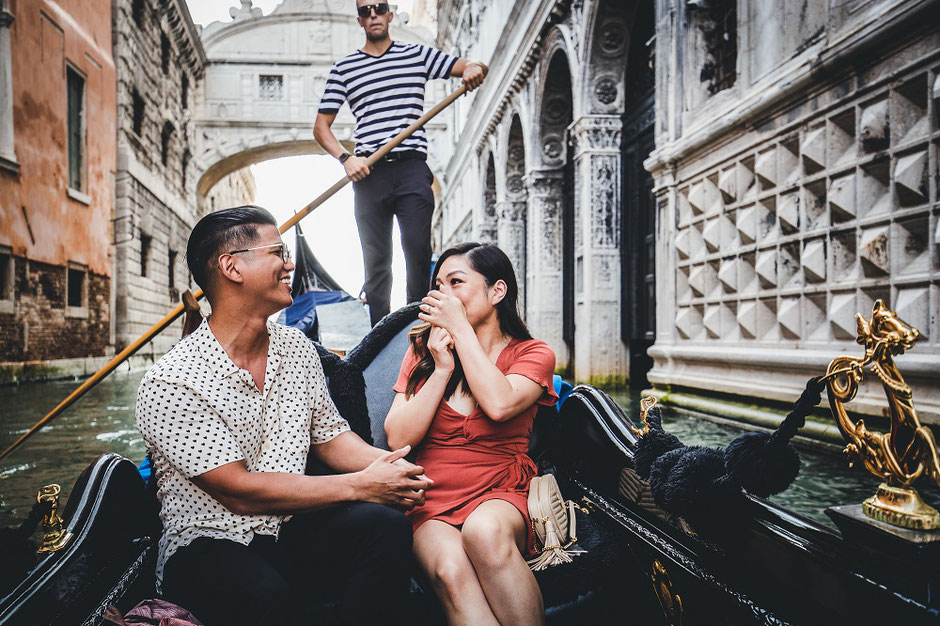 ---
Many people wonder if Venice is a good place for a Surprise Wedding Proposal and the answer is absolutely YES!!
Venice is the most romantic city in the world that gives every Wedding Proposal an incredible and unforgattable setting surrounded by pure romance.
Women or Man who are lucky enough to receive the proposal in Venice with a Professional Surprise Proposal Photographer who captures the precious Photos of the Surprise Wedding Proposal will have a beautiful and indelible Memory.
There are so many incredibly beautiful places for a Surprise Proposal in Venice, however there are some very important aspects to consider.
The time of the Surprise Proposal is an element to be taken into consideration. Venice is a very touristic city and, if the Proposal is not made in the light of dawn, the most touristic places are to be avoided.
When the Surprise Proposal is made at dawn, the Photoshoot can also be made in the famous Piazza San Marco or in Riva degli Schiavoni where the background has something incredible.
If the Proposal is made after 9am there are still lovely places in the less touristy areas that will make the Wedding Surprise Proposal Photoshoot incredible. Being Photographers natives of Venice we will recommend places that will leave your partner breathless
Another element to consider for a Venice Engagement Proposal is also the light. The light for the Photographer is essential, we will help you also in this case with your choice so that your Wedding Proposal in Venice is perfect.
The Surprise Proposal Photoshoot can obviously also be made in a Gondola.
The gondola service is active from 9am to 7pm.
The Price is Euro 120 and It Doesn't need any reservation.
During the gondola ride the Proposal Photographers will be on board with you, sitting at the bow of the gondola.
In this case who make the Proposal will tell to his/her partner that they will do a simple couple Photo Shoot in Venice which includes the gondola tour, obviously without mentioning that there will be an Engagement Surprise Proposal.
Unfortunately, due to the way Venice is built (with countless canals and closed streets) it is not possible for your Venice Proposal Photographer to stay on the ground because he would not be able to follow the gondola.
For the more romantic people it is also possible to have the availability of a violinist who will accompany their gondola ride.
---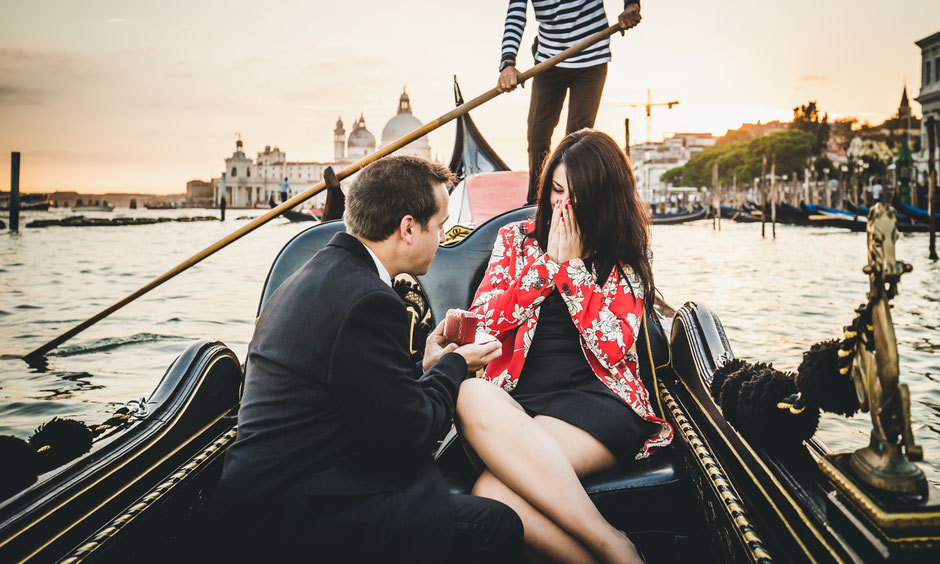 ---
When you are in contact with Your CB Surprise Proposal Photographer , organizing the Photo Shoot itself is much easier. The help of a resident and Professional Photographer in Venice will remove any doubt that something could go wrong.
When hiring an Engagement Photographer there are two ways to go:
- tell your girlfriend/boyfriend that a Venice photographer has been booked for a Photo Shoot. During the Photo Service, at our signal that it will take place in the previously established place, the future husband / wife will kneel and make the Proposal.
- We previously agree on the place and time of the Surprise Proposal and we will pretend to be tourists and when the Proposal takes place we start taking the enchanting Photos.
After the Proposal, the Engagement Photoshoot will continue in characteristic places of Venice.
---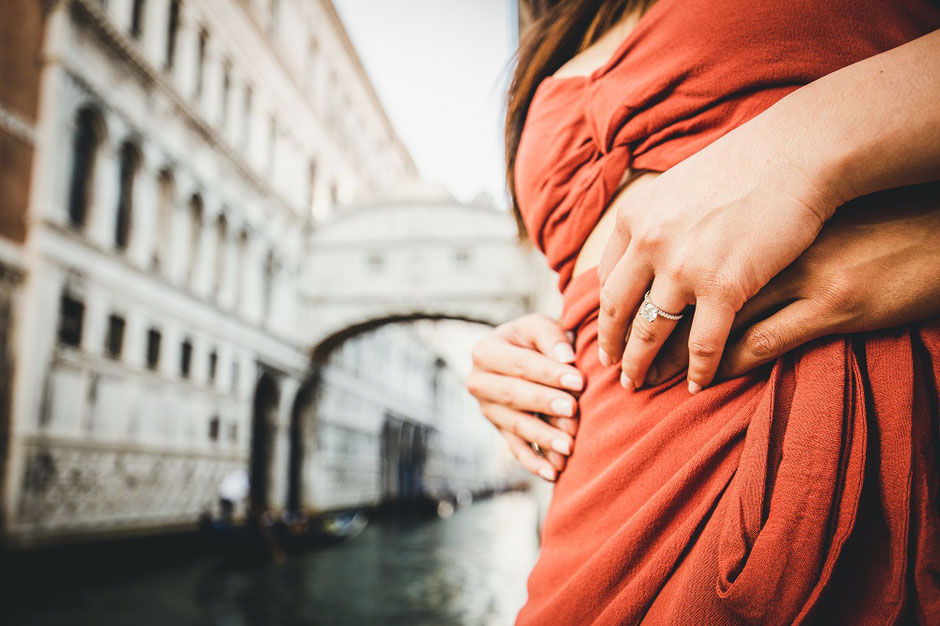 ---
With CB Photographer Venice, during your Surprise Proposal in Venice, there will always be 2 Photographers.
This is a fundamental aspect as the Proposal lasts a few seconds and having two Photographers will guarantee you to have the Photos of the Proposal from different angles and with different lenses in order to be able to give you a consistent amount of Photos of one of the most unforgettable moments of your life.
It doesn't matter whether a woman, a man, straight, gay or lesbian does it. We celebrate love and as long as it is present we are always enthusiastic about it!
We are absolutely LGBTQ + friendly, do not hesitate to contact us !!
If you want to know more about us...
---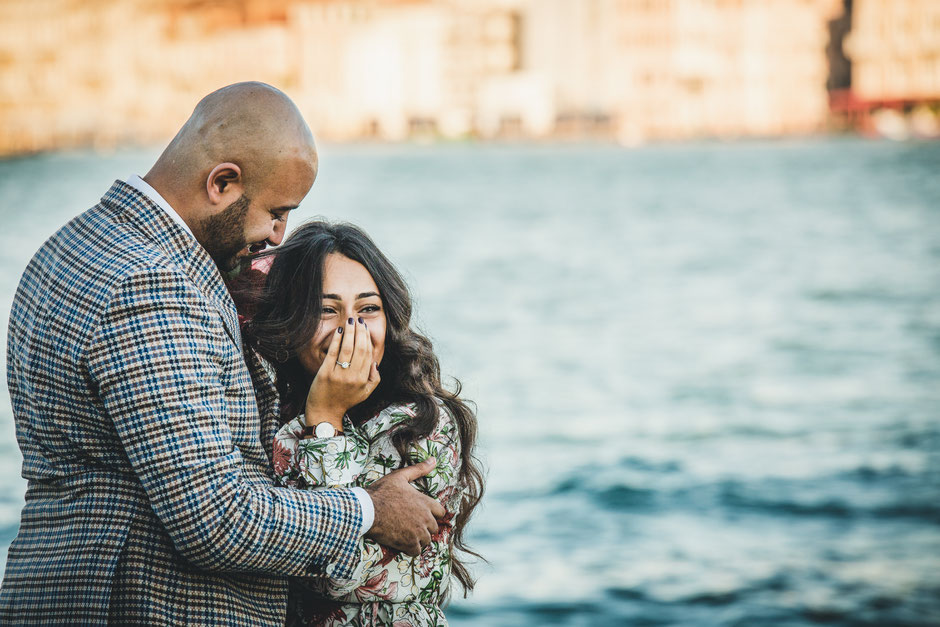 ---
We photographed an infinite number of Surprise Proposals in Venice. In the Surprise Proposal Photoshoot Section you will find several Photos that can inspire you in your decision.
Below you can find some Surprise Proposal ideas.

---
---

...with your Surprise Proposal Photographer.
---