---
Many tourists choose to go on Vacation to Venice. Venice is a breathtaking city and with its architecture and history it enriches every tourist.
The Photos taken with the phone do not always give faith to the beauty that Venice offers and here a Venice Vacation Photographer enters the scene.
We have specialized over the years in Vacation Photography by taking wonderful Photos for both solo travelers and couples who come to visit Venice.
The Venice Vacation Photographer will walk with tourists during the Photo Session in the most unique streets of the city and you can also take advantage of a romantic gondola ride that will make the Vacation Photo even more beautiful.
---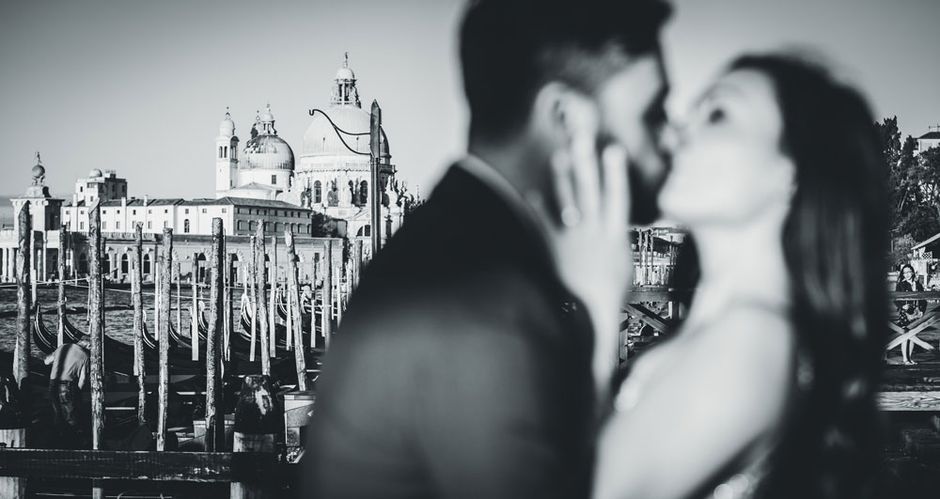 ---
It happens very often that when we come back from a trip we show friends and relatives the Photos of our Vacation. However, it often happens that the Photos are Photos of landscapes or selfies where the background behind us is not visible.
If, on the other hand, you hire a Venice Vacation Photographer, this does not happen. You will have magnificent Photos with you where you will be sourrounded by the history and beauty of Venice.
A Venice Vacation Photographer will guide you to the most enchanting places in Venice, many of which, although very characteristic, are not known to most tourists.
Relying on a Venice Vacation Photographer, born and raised in Venice will make your trip to Venice unforgettable! 
Not everyone feels comfortable in front of the camera, and this aspect can cast doubt on both travelers and couples to hire a Venice Vacation Photographer.
You don't have to worry! When we see a client in difficulty during the Vacation Photoshoot we help the traveler or the couple to pose naturally during the hugs and how to maintain the posture during the walk. After a few minutes our customers feel so at ease that they forget the camera and let themselves be carried away by the moment having a lot of fun!
We offer several vacation photoshoot packages.
The basic package, which is the cheapest, lasts one hour. In this 60 minutes the Venice Vacation photogrpher will take you to the most enchanting places in Venice. After about 5 days the photos will be sent to you.
There are also longer packages for travelers who want a photo shoot with more locations or if they want to take advantage of an outfit change.
In each package you can take a gondola ride for romantic photos that will remain in your hearts forever.
To get in touch with your Venice Vacation Photographer fill out the form at the end of the page!
---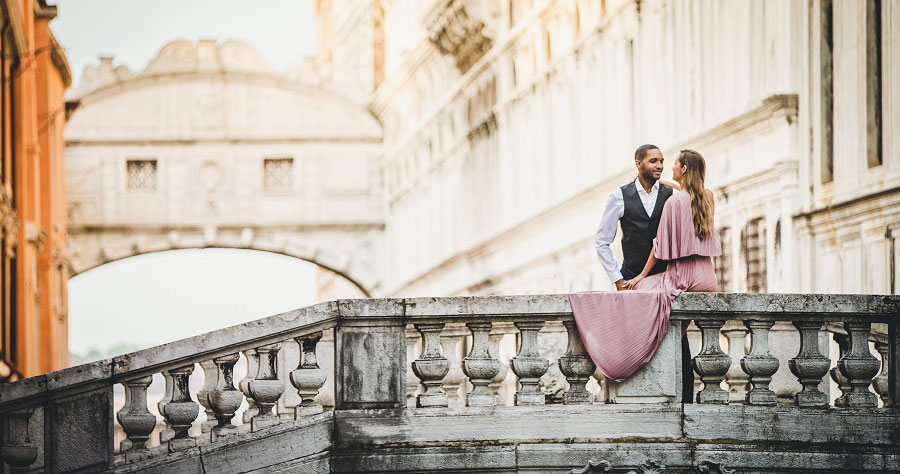 ---
If you plan to do a Vacation Photoshoot in Venice during summer time we highly recommend to book this service 2/3 months before to make sure we are available. In case of a last minute vacation you can  give a try anyway and contact us and maybe we'll be available.
After the vacation photoshoot in Venice we edit the photos with our uniqe style and we will send them with wetransfer.
you will receive the photos edited with our unique style in 5 days. For us, delivering the photos of your holiday photo shoot is a priority so that you can immediately share the photos of your holiday in Venice with friends and family.
For this reason we accept a small number of photo shoots in Venice per month.
Whether you are a single individual, a couple, a family or a group of friends, nothing changes. There can be up to 8 people.
During the vacation photo shoot we will walk together through the narrow streets and bridges with a breathtaking view. We will start in the San Marco area and then continue in less known and crowded areas. During the Vacation photoshoot it is also possible to take a romantic gondola ride or take some photos while sipping a coffee in the most famous bar in the city. If clients wish, we can take some photos in the hotel or apartment where they are staying for more intimate photos.
---

...enjoy our latest Vacation Photoshoots...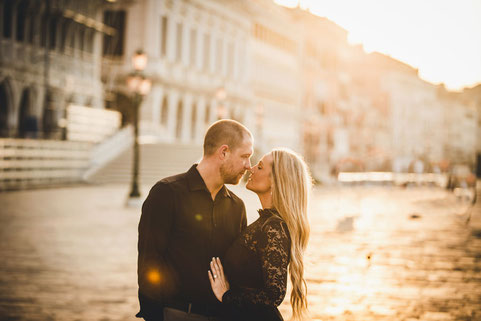 ---
---

---