---
Venice is the most romantic city in the world, bridges and narrow  streets form a labyrinth where it' s very easy to get lost. But any time you get lost you find out a little of history and an idiliac scene.
Celebrate your Engagement in this stunning city will be unforgetteble and hiring a Professional Photographer will give you memories for many years to come.
It is our priority to give you a truly unique experience and a creative, innovative and always unique Photographic style.
For years we have been working with Couples from all over the world and every time we create in our Photos atmospheres that only a city like Venice can offer.
We love what we do from the deep of our heart.
Photography has accompanied us since we were young, and all our experience is always at your service to give you, through our photos, unforgettable memories.
As Engagement Photographers in Venice we are excited to have you here !!
We know what it means to plan a beautiful vacation in Venice but don't worry, at CB Photographer Venice you will always find reliability, friendliness, seriousness and all the information and assistance you need !!!
We are here for you!!!
---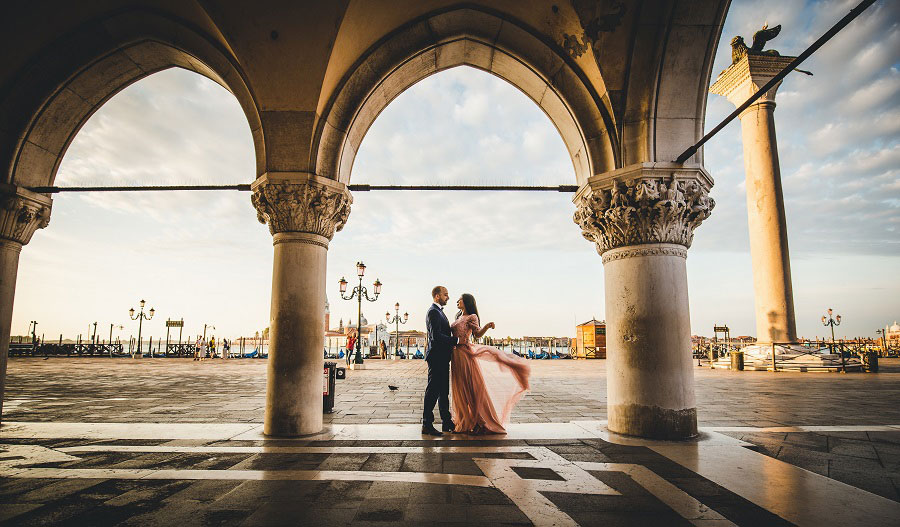 ---
 An Engagement Photo Session is a portrait session of the Groom and Bride to be. Sometimes Couple want to have a Photo Shoot just because it's a great opportunity to have some Professional Photos in a stunning city. Sometimes they want to have an Engagement Photo Session for their Save The Date cards, sometimes they want  to announce to families and friend they will get Married soon or for display in their pictures during the Wedding. 
An Engagement Photo Shoot in Venice will help you understand what to expect on your wedding day.
You will learn from Us something about Shooting posing. It's also useful for taking Photos for your Save-the-Date Cards.
It will also be useful because you will have professional and quality photos of the two of you not in a wedding dress in one of the most beautiful cities in the world.
---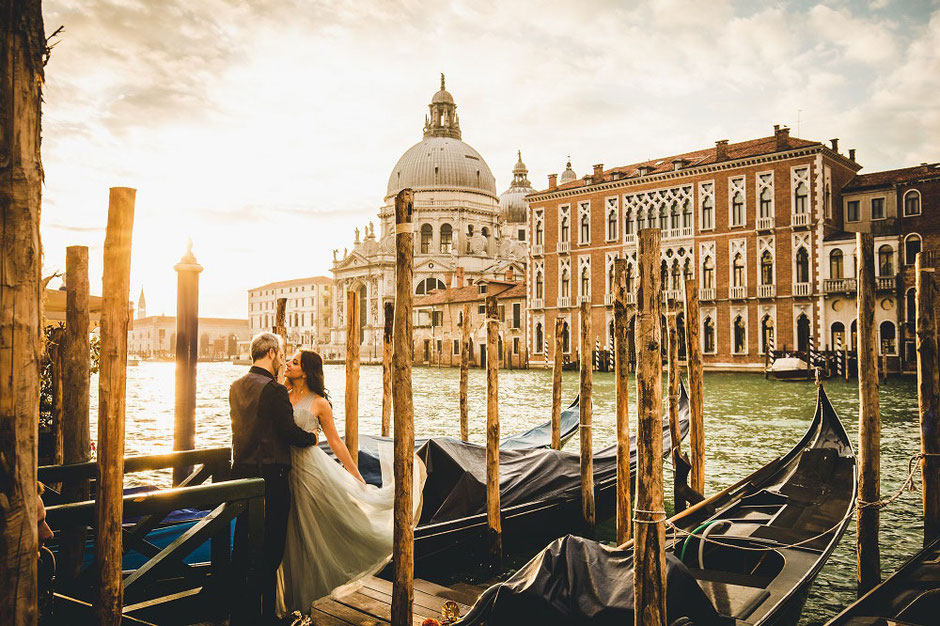 ---
I usually don't plan the exact location of the Shooting. When I meet my clients we walk and stop to shoot along the way, I follow the light and I always create the best composition I can. If there is any location in mind you want to Shoot I'm more than happy to hear about it!
I guide my clients for posing naturally and any pose is designed to get Couples interacting as they normally do.
Many Shoots are taken while the Couple is not even realizing that! Most of the time they are so overwhelmed by their love surrounded by the incredible beauty of Venice that they hug and kiss forgetting for a while about me! And those are the Picture I prefere!!
This question deserves a Blog Article. We will do It shortly, Promise!!! Since in our Engagement Photo Shoots we represent Venice in a cinematic way, we want to recommend an elegant look for him (You don't need a suit, don't be afraid, but even just a white shirt works well) and for her a flying Red, Bordeaux, Green or any color you want Dress. The most important thing is that you feel comfortable.
If you get the chance and everything is on budget, DO IT!!!!!!
It is very important that a Pro does the hair and makeup for your Engagement Photo Session, especially in Venice.
Liz and her team will focus primarily on enhancing eyes and lips.
Hairstyle is equally important because it gives dynamism and movement to the portraits.
Their experience always gives to our Engagement Photo Shoots in Venice that cinematic effect and quality touch that we as Photographers want to give you.
I would also recommend a manicure. As we love taking close up pictures especially of the Engagement Ring!
Check Liz's work Here!!
There is no right or wrong season, If you are getting married during the summer I suggest to have the Engagement Shooting during fall/winter. If you are getting married in a snowy time I suggest to have way different pictures during the summer.
The best light is at sunset and especially sunrise where Venice is not crowded by tourists. Getting a Gondola or a Water Taxi drive is another is highly recommended!
Check our availability here!!!
---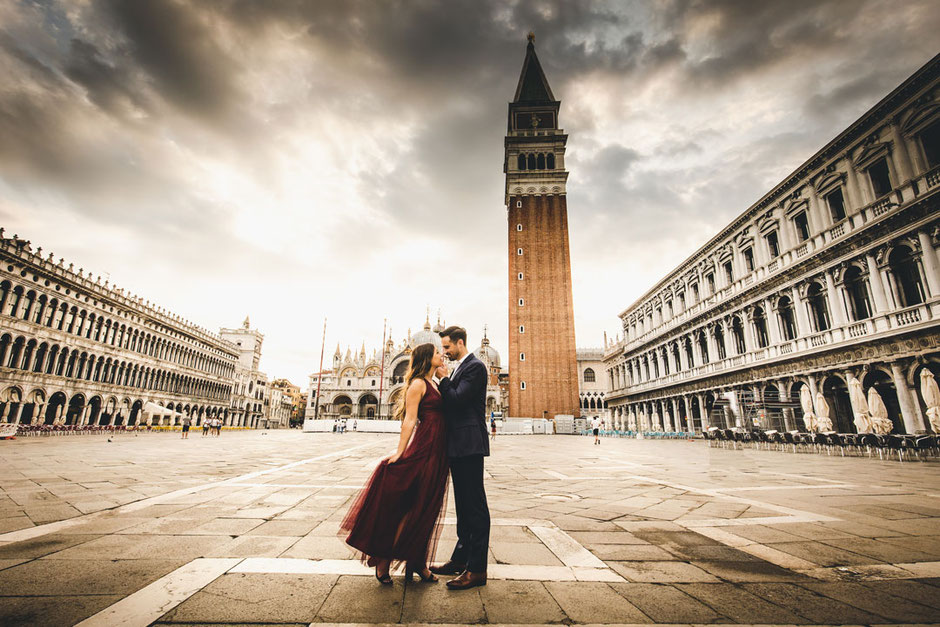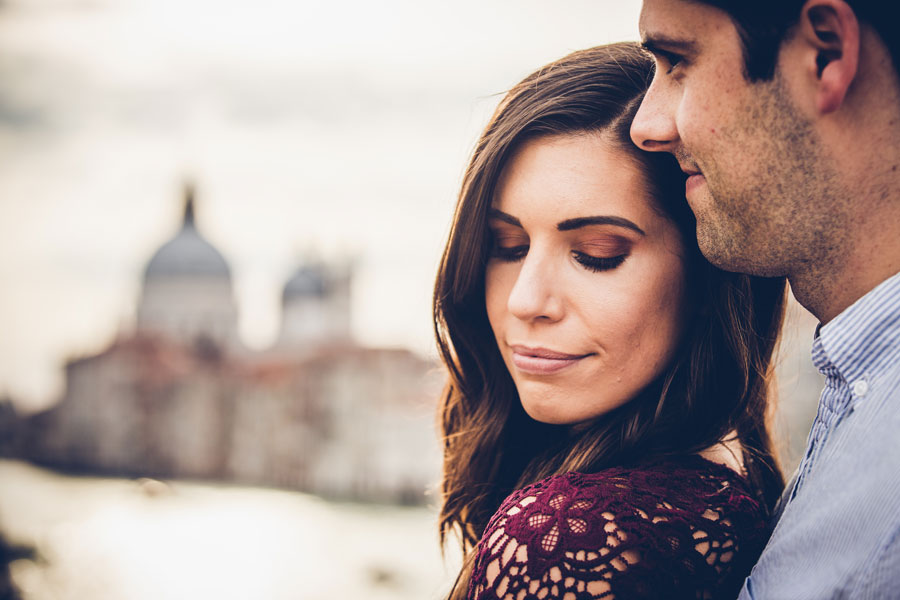 ---
 Fell free to contact us at our Contact Page.
  You can choose between 3 packages; 50 Pictures or 100 pictures. 
   We will send you from 50 until 100  jpeg edited pictures ( it depends which package you choose) in High Quality     Format via We transfer in 3/5 days. If you want you can have the original files with an extra cost of Euro 100.
 We will reschedule the Engagement Photo Shoot for the first available date!! The floods phenomenon called "acqua       alta" it is not a problem and it is NOT DANGEROUS!!! Instead it is an opportunity to see Venice in a unique way!!!       anyway is just a winter phenomenon!! 
 If you want you can add a Gondola Ride and the price is from Euro 80/120, it depends on the gondola driver and    where you want to rent it.
Carlo and Liz are Engagement Photoshoot Photographers working in Venice and all over Italy.
---

---

If you need more Info about your Engagement Photo Shoot, fill out this form...
---