Vows Renewal Photoshoot in Venice
---
What is the vows renewal?
Renewal of Marriage Vows is something all couples should do. It is an intimate and unofficial ceremony that celebrates the love of a couple. Usually the Renewal of Vows takes place after 5-10-20 years of Marriage, but it can be done at any time, after a year, after the birth of a child or after an important period in one's life. It is a moment to remember and without a doubt hiring the Venice Vow Renewal Photographer is a fundamental step so that you can relive the emotions of that day through Photos.
---
---
Where to celebrate the vows renewal in Venice?
The Vows Renewal in Venice, not being an official Ceremony, can be celebrated anywhere. There are couples who Renew their Vows during the Photoshoot in a Location they see at the moment or have already planned together with the Venice Vows Renewal Photographer. Others instead decide to rely on a Wedding Planner who will celebrate the vows renewal in Venice including, if requested, other services such as flowers, decorations, arrangements, etc.
How does the Venice vows renewal photoshoot work?
The Venice Vows Renewal Photographer will take you to the most intimate and enchanting places in Venice. During the Photo Shoot you can stop in a location with a breathtaking backdrop to renew your Wedding Vows in Venice. After the renewal of vows we will walk together in the narrow streets of Venice which will make the Vows Renewal Photoshoot very romantic.
---
---
How far in advance should I hire the Venice vows renewal photographer?
The sooner the better! Especially the summer season is chaotic and we recommend booking your Photographer at least 3 months before the desired date.
Makeup and hair for the vow renewal photoshoot
As with all important occasions, having an impeccable make-up and hairstyle is essential. In every photo you will look perfect and radiant. www.weddingmakeupvenice.com
Can I do the vows renewal on the gondola?
Yes, the Vows Renewal can be celebrated on a Gondola, with or without the celebrant. The Venice Vows Renewal Photographer will be on board with you. The gondola ride lasts about 30 minutes and costs 80/120 euros.
---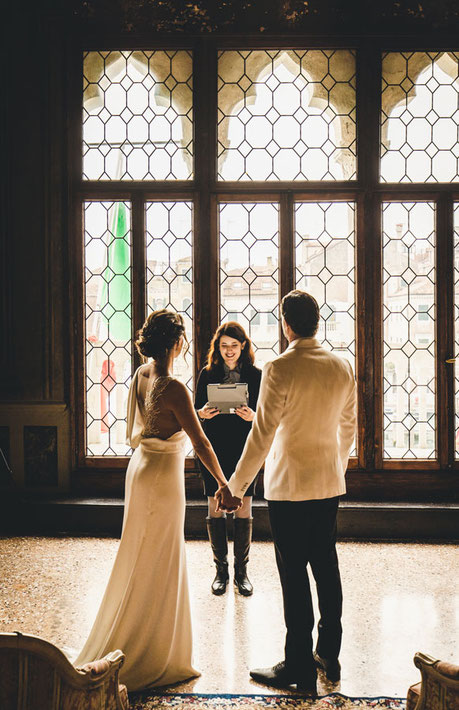 ---

---